It was confirmed this morning (11/19/2020) that Easton School Department has 2 probable COVID cases and will be releasing students to buses at 12:00 pm, and will remain closed through Thanksgiving Break. Parents are free to pick up their students any time by contacting their students school by phone. Remote learning will begin on Monday 11/23. There will be no PreK today.




Due to Caribou High School and Caribou Tech Center going red for the next two weeks, All Caribou Tech students will be learning remotely. Easton students only need to attend in person classes in Easton. Students are expected to attend all classes both in person and on-line. Caribou plans to reopen on November 18th. If students were named a close contact, they must continue to quarantine until November 18th.

There will be no vocational programs in Caribou tomorrow, Wednesday, November 4. Students who have not been designated as being in close contact should attend their Easton classes as usual but will not be required to be present during their normal Caribou vocational class time.

COVID-19 Update from Superintendent Stanley in regards to Caribou Regional Tech Center and RSU #39 moving to remote instruction:
https://5il.co/mc0m

There will be no Caribou Vocational classes until Monday, October 26. Students who normally attend classes in Caribou will need to attend class in Easton for the remainder of this week.

Attention Please. Tonight's soccer games with CAHS have been postponed until tomorrow. Boys varsity will play in Mars Hill at 5:00 pm and Girls varsity will play here in Easton at 6:00 pm.

Due to construction to the Elementary School parking lot we need to make a temporary change to the traffic pattern. The Bangor Road entrance will be closed beginning tomorrow morning (10/20/20). Parents dropping off elementary students should enter the entrance to the right of the high school and continue around the high school and proceed down the paved pathway to the playground. After dropping off students, parents should proceed to take a left at the road to head back toward the high school to exit. Pick-up in the afternoon will follow this same procedure.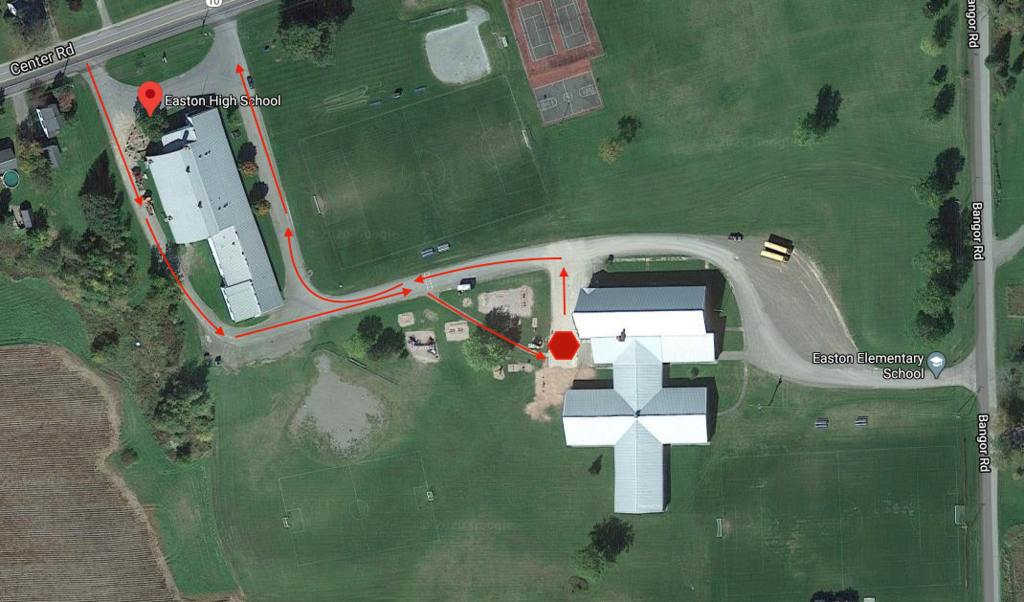 Due to a shortage of drivers, there will be a change to morning bus runs tomorrow, Monday, October 19, 2020. Students riding Craig's bus will be picked up 10-15 minutes later than normal. Thank you for your patience and understanding.


Barring any changes to health risk, we will be transitioning to green mode October 13th. Please read the following Superintendent's letter for details on what changes this will bring:
https://5il.co/l6cs


Beginning September 8th, free meals will be provided for all students until Dec 31st or until funding is no longer available. For more information on what this means for Easton students, please Click here for the full PDF:
https://5il.co/kme5




A quick clarification on the "Returning to School After Illness" section of our Reintegration Plan. View the PDF here:
https://5il.co/iwu6